They start with a solution (feasible or not):
To improve locally a solution, you need to start with a solution. In or-tools this solution has to be feasible. You can produce an initial solution and give it to the solver or let the solver find one for you with a DecisionBuilder that you provide the Local Search algorithm with.
What if your problem is to find a feasible solution? You relax the constraints until you can construct a starting solution for that relaxed model. From there, you enforce the relaxed constraints by adding corresponding terms in the objective function (like in a Lagrangian relaxation for instance). It might sound complicated but it really isn't.
They improve locally this solution:
This is the tricky part to understand. Improvements to the initial solution are done locally. This means that you need to define a neighborhood (explicitly or implicitly) for a given solution and a way to explore this neighborhood. Two solutions can be close (i.e. they belong to the same neighborhood) or very far apart depending on the definition of a neighborhood.
The idea is to (partially or completely) explore a neighborhood around an initial solution, find a good (or the best) solution in this neighborhood and start all over again until a stopping criterion is met.
Let's denote by

the neighborhood of a solution

.
In its very basic form, we could formulate Local Search like this: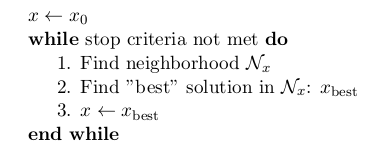 Often, steps 1. and 2. are done simultaneously. This is the case in or-tools.
The following figure illustrates this process: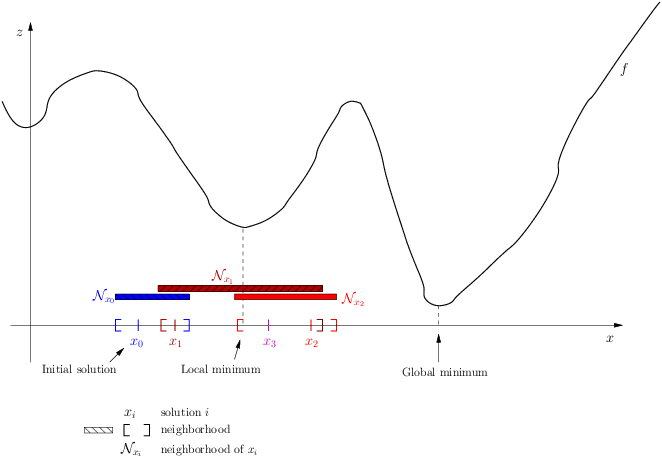 This figure depicts a function

to minimize. Don't be fooled by its 2-dimensionality. The

-axis represents solutions in a multi-dimensional space. The

-axis represents a 1-dimensional space with the values of the objective function

.
Let's zoom in on the neighborhoods and found solutions:

The Local Search procedure starts from an initial feasible solution

and searches the neighborhood

of this solution. The "best" solution found is

. The Local Search procedure starts over again but with

as starting solution. In the neighborhood

, the best solution found is

. The procedure continues on and on until stopping criteria are met. Let's say that one of these criteria is met and the search ends with

. You can see that while the method moves towards the local optima, it misses it and completely misses the global optimum! This is why the method is called local search: it probably will find a local optimum (or come close to) but it is unable to find a global optimum (except by chance).
If we had continued the search, chances are that our procedure would have iterated around the local optimum. In this case, we say that the Local Search algorithm is trapped by a local optimum. Some LS methods - like Tabu Search - were developed to escape such local optimum but again there is no guarantee whatsoever that they can succeed.
The figure above is very instructive. For instance, you can see that neighborhoods don't have to be of equal size or centred around a variable

. You can also see that the relationship "being in the neighborhood of" is not necessarily symmetric:

but

!
In or-tools, you define a neighborhood by implementing the MakeNextNeighbor() callback method from a LocalSearchOperator: every time this method is called internally by the solver, it constructs one solution of the neighborhood. If you have constructed a successful candidate, make MakeNextNeighbor() returns true. When the whole neighborhood has been visited, make it returns false.
They finish the search when reaching a stopping criterion but usually without any guarantee on the quality of the found solution(s):
Common stopping criteria include:
time limits:

for the whole solving process or
for some parts of the solving process.

maximum number of steps/iterations:

maximum number of branches;
maximum number of failures;
maximum number of solutions;
...

improvements criteria:

stop if no improvement for n number of steps/x time;
stop if gap between estimate of optimal solution and best solution obtained so far is smaller than x;
...
These stopping criteria can be further divided in:
absolute: for instance, a global maximal number of iterations;
relative: for instance, the improvements are too small with respect to the time, the number of iterations, the number of solutions, ... .
Most of the time, you combine some of these criteria together. You can also update them during the search. In or-tools, stopping criteria are implemented using specialized SearchMonitors: SearchLimits (see the subsection SearchLimits).